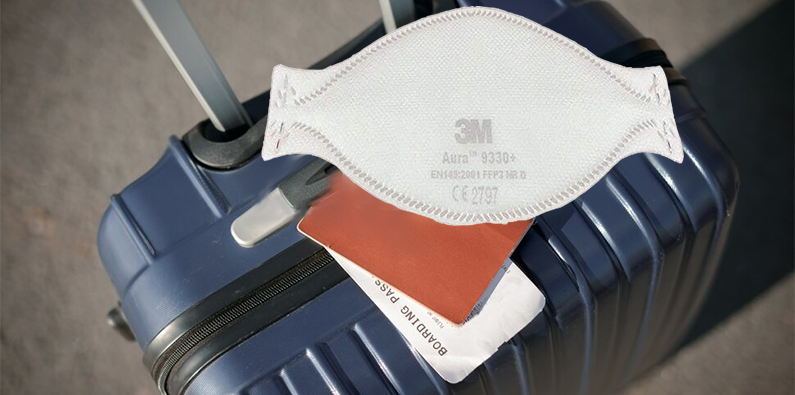 There is a multitude of misleading information on the internet written by non-experts regarding mask protection when flying potentially putting vulnerable people requiring a higher level of respiratory protection such as the immunosuppressed or people with underlying health conditions at risk with unsubstantiated protective claims.
We have been providing respiratory protection for businesses and government for over 18 years though the recent endemics & pandemics of the 21st century so from a position of authority our definitive guide will ensure that if you require high protection, you will be correctly protected.
Whilst the legal requirement for wearing face coverings in public ended on July 19th 2021, all airlines currently require masks to be worn whilst on board and airline terminals request passengers also continue to wear face coverings to reduce the spread of Covid 19.
To try and reduce possible levels of transmission, many airlines request that non valved masks are worn to a minimal certification of an FFP2 mask (Please see Protective Mask Criteria below) level or surgical mask.
There are a number of destinations that do not allow cloth masks at all to be worn such as Austria, Germany, France & Italy for example as these cloth covers are provide little resistance in reducing transmission from the wearer to others.
The mask guides created by the airlines and airport mask are to try and reduce possible levels of transmission only and not recommendations as to what masks actually provide protection to the wearer.
Most aircraft are fitted with high level filters with claims that they clear 99.97% of airborne contaminants however passenger air is still exhaled prior to being filtered. (Easyjet)
If you therefore require respiratory protection because you are immunosuppressed, have underlying conditions or just want to be properly protected it is important to have the correct protective mask at FFP3 level such as the non-valved HY9330 FFP3 or the non-valved 3m 9330 FFP3 mask.
There are many fake protective claims on the internet, so it is important to note just because someone may use the term face mask or protective mask it doesn't mean that that mask protects unless it is actually certified to do so.
Many of the adverts that we see online aren't protective masks (ie protect the user) they are purely masks that act as face covers. (i.e. non protective to include cotton masks, silk masks etc which will purely reduce larger droplets being exhaled from the user).
If you don't require protection then these face coverings are fine however if you do require protection they won't protect as outlined below.
The British Standards Agency (BSI) used by many of the main RPE (Respiratory Protective Equipment) manufacturers of PPE products for independent third-party testing have highlighted the differences between the term "Mask" & the level of protection a "Mask" provides.
In order for a mask to be a "Protective Mask" ie protects the wearer, the product must comply with the European Personal Protective Equipment (PPE) regulations & needs to be classified to the EN 149:2001+A1:2009 standard, with CE marking and details of the notified body.
The EN 149 is the safety standard that covers protective masks graded FFP1, FFP2 and FFP3 masks however only protective masks classified as EN 149:2001+A1:2009 & graded FFP3 will provide the maximum level of protection against covid 19 and covid variants with the highest level of filtration media against very small particulates including viruses.
The non-valved FFP3 Masks, the Hy9330 mask & 3m 9330 will provide the required highest level of protection whilst flying complying with all the correct PPE regulatory standards as per the British standards agency.
In the initial stages of the outbreak when there was limited availability FFP3 masks, the WHO (World Health Organisation) initially advised the use of FFP2 masks (N95 US version) as providing better protection than surgical masks.
Whilst FFP2 grade offers a level of protection & is close fitting in comparison to a surgical mask, the filtration media grade provides an insufficient level of filtration due to the small size of a virus.
As with the FFP3 masks, if the mask does not have the necessary safety markings, EN 149:2001+A1:2009 FFP2, the FFP2 mask will not provide you with that level of protection either & we have seen many products with fake certification as highlighted by the European Safety Federation.
As outlined in one of our recent articles Healthcare Study non valved FFP3 masks will provide the highest level of protection required with an APF 20 and that masks that we recommend & are also used by healthcare workers in hospital settings are outlined below:
Recommended non Valved FFP3 Protective Masks For Flying:
(Individually Packaged Fold Flat FFP3 Masks Non Valved) : Hy9330 FFP3 mask
(Individually Packaged Fold Flat FFP3 Masks Non Valved): 3m 9330 FFP3 mask
Don't risk your safety with a non-protective gimmicky mask.